Financing
We accept American Express, Master Card, Visa and Discover, and cash. In addition, we accept the CarCare ONE card.
See below for details.


Six Months No Interest Financing On Purchases Over $199
Low Monthly Payments
Instant Credit At Time Of Application Approval
Doesn't Tie Up Other Credit Cards
Nationwide Acceptance At Over 9,000 Locations
No Annual Fee
New Purchasing Power
Optional Credit Insurance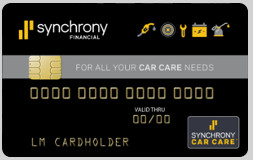 Care Care One Syncrony Credit Weikel's full service automotive repair and maintenance center located in Langorne, Pa. CarCareONE is a credit card and a line of credit just for your car. It lets you keep your car running safely and smoothly without tying up other credit cards because it can be used to charge service, parts, tires and anything sold by over 9,000 participating dealers nationwide. Once you're approved for the card you can use the CarCareONE much like a MasterCard or VISA card at all participating dealers.
A key feature of the card is Six Months No Interest Financing ...something you don't get with MasterCard, VISA or other cards.
Applications are available at Weikel's Auto Repair or
here
.
Reviews
Amazing service, they treat you like family. Nice to have auto mechanics that are honest and go the extra mile to help you. Would recommend to everyone with no hesitation.

Daniel H

Great mom n pop shop and kind people. Its hard to find a shop you can trust and this is one of them. I've taken numerous vehicles here over the years and Steve knows his stuff. He also knows i can do a few things and will recommend certain things and require what's really required. that type of honesty is needed more in this world. you also get coupons mailed to you every so often....really helps!

Vernon K

I've used Weikel's a few times and each time the service and experience were beyond my expectations. Steve is a great guy and actually drove me to my residence on my first trip to his shop after finding out I shouldn't drive my vehicle any further until a repair takes place. Weikel's certainly does customer service and work on your vehicle the right way!!!

Bruce Y